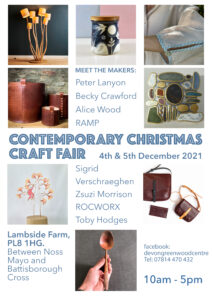 It's always great fun doing a craft show at my husband Peter Lanyon's workshop. This year is going to be no exception, it's going to be great seeing old friends and making new ones. Check out this blaster of a line up: Me, Peter Lanyon (beautifully crafted sustainable furniture and lighting), Alice Wood (practical, simple and stylish leather bags), RAMP (stunningly decorated ceramics that makes me weep with joy), Sigrid Verschraeghen (unique bespoke clothing in natural fabrics), Zsuzi Morrison (exquisitely detailed enamel jewellery), ROCWORX (Marbled textile and leather home items) and Toby Hodges (Peter's apprentice, who makes beautiful fine hand carved spoons)
Pop along to Lambside Farm, PL8 1HG (between Noss Mayo and Battisborough Cross in the South Hams, South Devon) on 4th – 5th December 2021 between 10 am – 5 pm.
Apart from our handmade wares, we will also be selling refreshments to raise money for Project Green Hands which is a huge volunteer driven tree planting project in Southern India to halt and reverse deforestation and bring the Cauvery River back to life.